May 11, 2020 08:43 PM Central
Tonia & Colin McArthur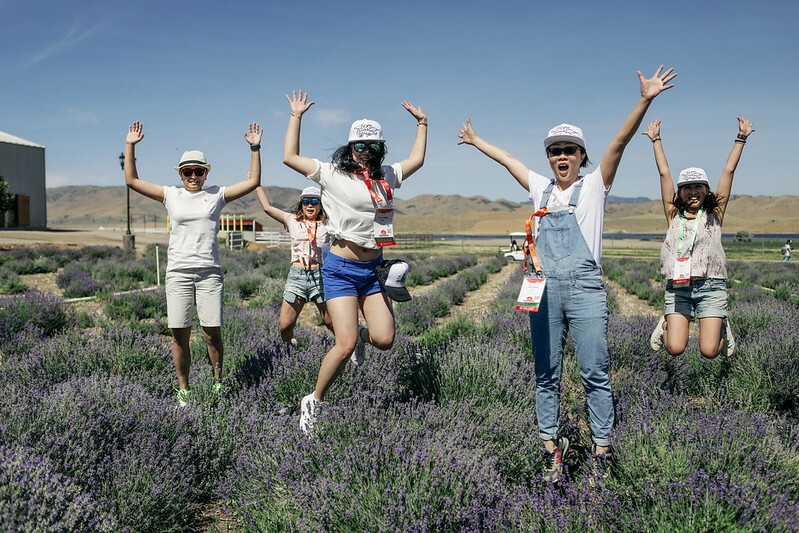 What started as an Angus beef farm has now become the world-famous Young Living Lavender Farm in Mona, Utah. This farm is located in central Utah which is home to fragrant lavender fields in every direction that you can look at. Featuring over 1,600 acres of fragrant herbs, a cool reservoir, pristine natural beauty, and fresh mountain air, the
Young Living Lavender Farm and Distillery
is a beautiful destination the whole family can enjoy. The Young Living Lavender Farm and Distillery is also a perfect place for family reunions, company parties, and wedding receptions.
The Young Living Lavender Farm and Distillery is an iconic lavender farm, not only to Young Living but also to the essential oil movement and the wellness community. This lavender farm is just a short drive from Young Living Global Headquarters and is home to events such as the Lavender Day festival, the Essential Oils and Animals Conference, and more.
Farm Fact: The Mona lavender fields and farm span nearly 1,600 acres, and the location is home to one of the largest privately-owned essential oil distilleries in the world.
What oils are distilled at this farm?
Farm Events
It would seem that there is always something going on at the Lavender farm in Mona, Utah. If essential oils are not being distilled then chances are plants are being planted, or crops are being rotated, or fields are being tilled. This farm is constantly on the go. And this is just pertaining to the essential oil side of the farm.
On top of the 'business as usual' activity, Young Living also hosts a seemingly never-ending slew of events at the farm. Below is a list of events and activities that you can find at the farm:
Annual Lavender Day

Essential oils classes

Run through the Lavender 5K

Distillery tours

Wagon rides

Small animal farm visits

Paddle-boat cruises
If you would like more information on events then you can contact the Young Living Lavender Farm at 1.800.371.0819 or 1.435.623.8006
What is the address of the Young Living Lavender Farm?
The address for the Young Living Lavender Farm is:
3700 Old Hwy 91, Mona, UT 84645, United States
Find it on Google Maps
If you are driving to the Lavender Farm be prepared to be on the road for a little bit as it is approx 1 hour from the Young Living Headquarters in Lehi, Utah. The drive takes place along the I-15 highway which has 6 lanes and an HOV lane tucked over on the far left so be sure to bring some friends with you to take advantage of that. You will thank us when you inevitably hit some of the Salt Lake City traffic, particularly close to the downtown core.

Keep your eyes open for the off-ramp labeled Summit Ridge Parkway (Exit 242) as it does tend to creep up on you. A little fun fact for you, if you attend the Lavender Farm during Young Livings convention you may find Scott Schuler and his Ride for a Reason entourage waiting at the Chevron Gas Station on the corner of Summit Ridge Parkway and The Mona Rd before driving into the Farm to show off their motorcycles.

Note that if you are visiting the farm during Young Living's convention there are shuttle buses available that will depart from the large parking lot kitty-corner to the Vivint Centre. There is a fee of $35 USD to take the shuttle which can be purchased when you are registering for your convention workshops.

Super Pro-Tip – If you are an international member Young Living generally has a day in which they dedicate exclusively for international members to attend the farm. The farms are much less crowded and quite often the fee for transportation is waved. Make sure you look into this if you are an international member.
What are the hours of operation for the Young Living Lavender Farm?



The hours of operation from April to August for the Young Living Lavender Farm are:
| Day | Hours |
| --- | --- |
| Monday | 8 AM – 8 PM |
| Tuesday | 8 AM – 8 PM |
| Wednesday | 8 AM – 8 PM |
| Thursday | 8 AM – 8 PM |
| Friday | 8 AM – 8 PM |
| Saturday | 9 AM – 5 PM |
| Sunday | Closed |
The hours of operation from September to March for the Young Living Lavender Farm are:
| Day | Hours |
| --- | --- |
| Monday | 8 AM – 6 PM |
| Tuesday | 8 AM – 6 PM |
| Wednesday | 8 AM – 6 PM |
| Thursday | 8 AM – 6 PM |
| Friday | 8 AM – 6 PM |
| Saturday | 9 AM – 5 PM |
| Sunday | Closed |



What hotels are near the Young Living Lavender farm?
Hotels near Young Living Farms Lavender Farm:
What restaurants are near the Young Living Lavender farm?
Restaurants near Young Living Farms Lavender Farm:
What attractions are near the Young Living Lavender farm?
Attractions near Young Living Farms Lavender Farm:
Young Living Farms draft horse show festival
Every year Young Living hosts a Draft Horse Show where you can come and experience everything from champion Percheron's and Friesians, watch concerts, and experience medieval jousting.
The farm, while it was originally purchased to support Young Living's Lavender Essential Oil grew into a hub for horse shows. The founder, Gary Young was a horse lover and could often be found 'unwinding' by riding his horses around the Utah landscape.
Gary's vision was to have a place for people to come and learn and experience both the horses but also the essential oils. Gary wanted to show horse owners and lovers that essential oils were an essential part of taking care of horses.
Distillery
This distillery at the farm is located towards the south side of the property and can be easily found by being like Tucan Sam, just follow your nose. No joke, you can smell the oil distilling from very far away and it might be the most amazing smell you've ever experienced in your life. There will more than likely be several different oils diffusing at once which when combined seem to fill the air all around you with almost a 'toasted' quality to it.
There are two levels to the distillery, upstairs will be where the large vats are loaded with plant material and downstairs is where the runoff from the oil happens. Also, as with all Young Living distilleries, there is a testing lab right on site which allows them to ensure the oils are of the strain and quality that is expected.
Medieval Show
One of the most popular things to experience at the Mona farm is to head over to the arena and watch the medieval show. The show is set up in a way to remind the people in the stand of what it must have been like to watch an event like this back in the day.
There are about 4 competitors who compete in 4 events over the course of the show. Events like trying to lance a set of rings while riding your horse, racing, and of course everyone's favorite, the joust are just a few games you can expect to see. The show is all in good fun and will take about an hour to complete.
If you are lucky you will hear Mary Young sing the national anthem at the beginning of the event. Often you can find Jacob Young as one of the competitors as he is an excellent horseback rider
Can I book the Farm for Special Events?
Absolutely you can! Imagine how amazing it would be to have your wedding at the Lavender Farm. You would easily be the envy of all your friends and a wedding photographer's dream! Maybe a family reunion? Or maybe you just want to have the entire farm to yourself? No problem, as you can rent out the farm
Depending on the time you require access to the farm pricing will change. See below for a list of pricing:
Booking time – from 4 to 10 p.m.
Monday-Thursday $1,400
Friday $1,800
Saturday $2,000
Booking time – from 10 a.m.-10 p.m.
Monday-Thursday $2,000
WEDDING CELEBRATION INCLUDES:
Personalized consultation

A staff member on-site

Full use of one of the venues (Upper-Level Show Barn, Gazebo, Village Inn, or Visitors Center Deck)

The kitchen area of your choice (Village Inn or Visitors Center)

The grassy area of your choice (Upper level or Lower level)

Bride's & groom's Rooms

Beverage service for wedding party

North parking lot12 round tables (60 inches)80 folding chairs

4 banquet tables (72 inches)

Access to garbage receptacles on site

Engagement photo (2-hour session)

12 round linens of your choice (white, black, ivory)

4 banquet linens of your choice (white, black, ivory)
ADDITIONAL OPTIONS:
White carriage for bride with two horses 1 hour: $75

Paddle boats, 4 hours: $200

Décor package: $250

BBQ grill: $75

Concession coolers: $25 per cooler

Lavender ice cream, 4 oz – $2

Lavender lemonade, 10 oz – $1

Accent birch trees: $100
If you need additional time or space, please contact your wedding coordinator.
PAYMENTS & REFUNDS
A deposit of $500 is due upon reserving the date for your event. Deposit is non-refundable in the event of cancellation. Young Living requires a credit card on file for any incidentals, cleaning fees, or overage of time. In the event you exceed your scheduled time, you will be charged an additional $250 per hour. All packages and additional items must be paid in full two weeks prior to the event. The Young Living Lavender Farm accepts credit cards or cash for all event deposits and payments.
---
Did you liked this article and would like to subscribe to our blog for Young Living Professionals?