Jun 25, 2020 10:32 PM Central
Tonia & Colin McArthur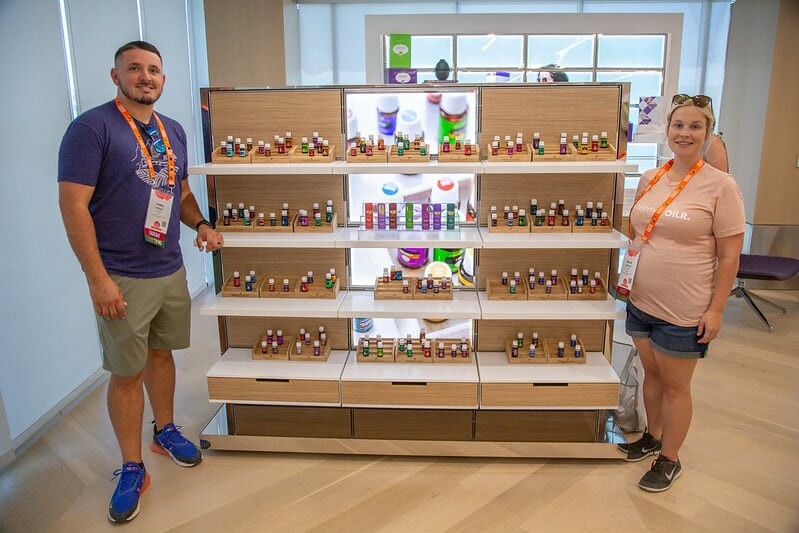 You may not have thought about it before but Young Living isn't just for people who want to bring the benefits of these amazing products into their homes. Businesses and organizations of all kinds can experience the same amazing benefits too, and best of all, they can share it with their own customers and clients.
A Young Living Professional account is a program that offers a 40% discount off retail items. This program allows business owners to purchase all Young Living products at a heavily discounted price which they can then use to sell essential oils to your clientele.
Businesses can now have access to a 40% discount on Young Living products like essential oils, health supplements, cleaning products, baby products, personal care products, pet care products or mineral makeup and sell these products in their own stores. Imagine how these products could impact so many businesses by augmenting their existing services with the addition of Young Living.
Why should a business consider a professional account with Young Living?
Unless you've been living under a rock for the last few years you must have noticed that Essential Oils are popping up everywhere. They are in most of your local health food stores, farmer's markets, and in many products that you may realize contain them. Essential Oils have proven to be far more than just a trend or passing phase, they are here to stay
The global essential oils market size was USD 7.03 billion in 2018 and is projected to reach USD 14.6 billion by the end of 2026

Fortune Business Insight
The essential oil industry is expected to double in the next 5-6 years which means there is plenty of opportunities for businesses to get on board now before things really explode. Consumers have made a loud and clear statement that they are interested in wellness all around them.
"Once upon a time peoples contact with wellness was occasional. They went to the gym or got a massage. But this is changing fast: a wellness mindset is starting to permeate the global consumer consciousness, affecting people's daily decision-making – whether food purchases, a focus on mental wellness and reducing stress, incorporating movement into daily life, environmental consciousness, or their yearning for connection and happiness," noted Katherine Johnston, senior research fellow, GWI.
What markets that are expected to have large growth
Real Estate
Real estate that incorporates intentional wellness elements into its design, materials, amenities, and programming, is growing fast as more people want to bring more health into the places where they spend the majority of their time. There are now more than 740 real estate and community developments across 34 countries that incorporate wellness into their business model – a number that grows weekly.
Workplace Wellness
Valued at $47.5 billion, the workplace wellness market remains very small in comparison to the massive economic burden and productivity losses associated with an unwell and disengaged workforce. Only 9.8% of world employees are covered by a workplace wellness program (321 million people), and programs are heavily concentrated in high-income countries in North America, Western Europe, and Asia.
Wellness Tourism
The $639 billion wellness travel market's annual growth rate of 6.5% from 2015-2017 is more than double the growth rate for tourism overall (3.2%). World travelers made 830 million wellness trips in 2017, 139 million more than in 2015 – and these trips now represent 17% of total tourism expenditures.
People looking to experience an all-inclusive spa and resort or even an Airbnb that has a Premium Starter Kit available for its visiting patrons would be very appreciative of this.
Spa Facilities
Spa locations jumped from 121,595 in 2015 to over 149,000 in 2017, employing nearly 2.6 million workers. The 9.9% annual revenue growth for spas is much higher than the pace from 2013-2015 (2.3%). The spa economy, which includes spa facility revenues (now $93.6 billion yearly), and also education, consulting, associations, media and event sectors that enable spa businesses (now $25.2 billion), has grown to a $118.8 billion market.
Growth Projections from 2017-2022
| Industry | 2017 | 2022 | 2017-2022 |
| --- | --- | --- | --- |
| Wellness Real Estate | $134.3 | $197.4 | 8.0% |
| Workplace Wellness | $47.5 | $65.6 | 6.7% |
| Wellness Tourism | $639.4 | $919.4 | 7.5% |
| Spa Facilities | $93.6 | $127.6 | 6.4% |
What business can benefit from a professional account?
In the face of longer lifespans, and rising chronic disease, stress and unhappiness, there can only be growth for wellness ahead. The wellness market isn't just growing, it's extremely dynamic. As discussed earlier there will be four sectors that represent the strongest future growth – wellness real estate, workplace wellness, wellness tourism, and spa facilities.
However, there are other sectors that will grow as they support the integration of wellness into all aspects of daily life. And wellness markets will become less siloed and more interconnected, converging to offer solutions and experiences in the places where people live, work, and travel.
Below is a list of businesses that can benefit from a Young Living professional account:
| | | |
| --- | --- | --- |
| Acupuncturist | Health Care Provider | Outpatient Centers |
| Apothecary | Health Club | Personal Trainer |
| Assisted Living | Home Health Care | Pharmacies |
| Athletic | Hospices | Physical Therapist |
| Behavioral Health | Hospitality | Rehabilitation Centers |
| Childcare Centers | Hotels | Salons |
| Chiropractors | Long-Term Care Centers | Schools |
| Churches | Massage Colleges | Skin Care |
| College | Massage Therapists | Spas |
| Community Hospitals | Naturopath | Therapist |
| Counselor | Non-profits | Veterinarians |
| Day Spa | Nursing Homes | Yoga Studio |
| Dentists | Nutrition Stores | |
| Fitness Studios | Nutritionist/Therapists | |
| Health and Nutrition Retailer | Optometrist | |
| Health Care Professionals | Ordained Ministries | |
If your business is not on this list, please contact professional@youngliving.com to see if you qualify. Business owners who do not qualify to participate in this program can still take advantage of the incredible benefits of joining Young Living as a wholesale member.
Where can I find support online for my professional account
There are several places that you can go to find support if you have enrolled with a professional account. The first place to look for support is with your sponsor as they should be well versed and educated on everything that you will need to know. Your sponsor should be available to help you through things from setting up your account, ordering stock for your business, pricing, compliance, teaching classes, and many other things. They, like any sales rep, are your main support system and should be there every step of the way.
NOTE – If you are a business and are looking for a sponsor to support you on your journey please email us and we will gladly help you out.
How do I apply for a Young Living Professional Account?
As we recommended earlier it is advised that you have a Sponsor available to help you through your Young Living experience. When you are signing up for your account there will be a section on the right-hand side that says 'Who introduced you to Young Living?'. The second option which says 'I was referred by a member and I have their ID number' is what you would select and then enter in their number.
NOTE – If you are a business and are looking for a sponsor to support you on your journey please email us and we will gladly help you out.
To become a Young Living Professional Account customer in the U.S., you must:
Provide a Federal Tax Identification Number (TIN), Employer Identification Number (EIN), or Social Security Number (SSN)

Provide a current state business license, registration certificate, or professional license

Complete, sign, and submit a Professional Account Application and Agreement to Young Living, along with the required business documents

Read and agree to Young Living's Policies and Procedures
Why do professional accounts only have a sponsor and not an enroller?
The answer is quite simple. Professional accounts with Young living are not eligible to receive commissions because they cannot have downlines. A professional account is strickly reserved for businesses whose goal is to add Young Living to their current services and do not want to be concerned with the business building side of things.
If you are a business who is interested in building a downline as well then you must enroll with a regular account
Where can I find the Professional Account Application Agreement Form?
You can find the form below. Once you have completed the form you can email it directly to professional@youngliving.com
---
Did you liked this article and would like to subscribe to our blog for Young Living Professionals?