Jul 22, 2020 09:29 PM Central
Tonia & Colin McArthur
It seems like years since we've been able to sit down and write a blog, connecting with our community again. So much has happened and it would take hundreds of blogs to catch you all up, so let's start here.
We are parents!
I know.
We started dozens of posts to share so much from our pregnancy all the way until the birth of our child but life over the last 12 months has been a whirlwind, a time warp and a really beautiful but challenging time. All of those posts will be written, our birth story will be shared, but for now, we are sharing something really important.
Our sweet daughter, Macy J, was six weeks old when we started this blog post and in celebration of her first six weeks in our lives earth side we felt compelled to share a list of the most important baby items we have so valued in these first weeks. Bringing home a newborn baby for the first time is life changing and with that transition there are so many things that can make your baby's (and your life) more comfortable and nurturing.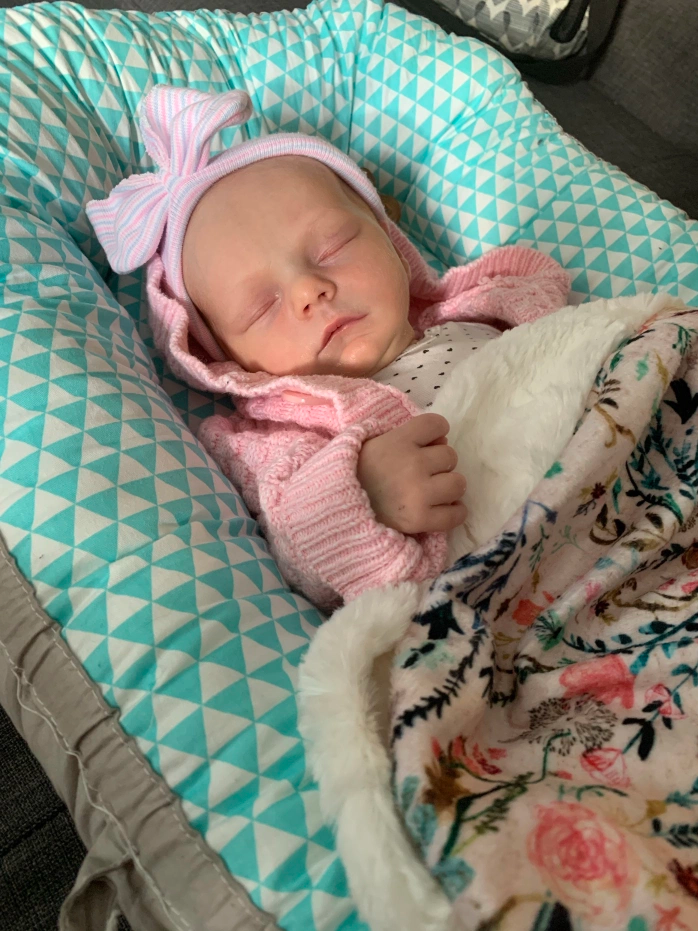 Here was my headspace when I considered the items purchased below:
How can I help to make my baby's transition from womb to our home as smooth as possible?

What are some ways I can help my newborn to be comfortable and happy?

How can I support my baby during the fourth trimester?

What products can I use that are safe for my baby?
Of course, there were many comforts we offered our newborn and you'll find the same to be true about yours as well. We felt the few we chose in the list below were the most important for us and we want to tell you why. Hopefully from our experiences you can make your own top list of newborn must haves and if you do, we'd love to hear about them!
Here we go! In no particular order:
4 Moms Mamaroo 4 and Infant Insert
This was our first major purchase – in fact, Macy's grandparents ended up asking if they could purchase this amazing swing system for her! We found one barely used and in amazing condition on Facebook marketplace for less than half the price of a brand new one. We loved the idea of helping to reuse and recycle as well.
Parents and parents-to-be, this resource is invaluable for everything kiddo related so definitely look into Facebook Marketplace and give it a solid go. I can't tell you how many hundreds and thousands of dollars we have saved for everything from Macy's Mamaroo to clothes to dressers and more.
OK, back to the swing.
Think about your movements when you're pregnant. Most swings move forwards and back and that's about it. When I considered my own movements I found I always swayed side to side, never forward and back. I couldn't make sense of how a forward and back motion would be comforting to my newborn so we dove in. The Mamaroo 4 has five different motions and five different speeds and also had a noise machine function! Oh, and for your convenience, Mamaroo also has a handy little app so you can control the whole thing right from your phone. We tried, both you and your spouse can control the same Mamaroo on your own respective apps on your own respective phones. Bonus. You know how some apps only let you have one registrant? Not Mamaroo!
For buying brand new, here is just one example of where you can find them (and you can choose your colour, too:
The Swing:
https://well.ca/products/4moms-mamaroo-40-infant-seat_138186.html
The Newborn Insert:
https://well.ca/products/4moms-reversible-newborn-insert_107994.html
Don't forget to check out your local Facebook marketplace to save yourself some money if you're being frugal or really splurging on other items.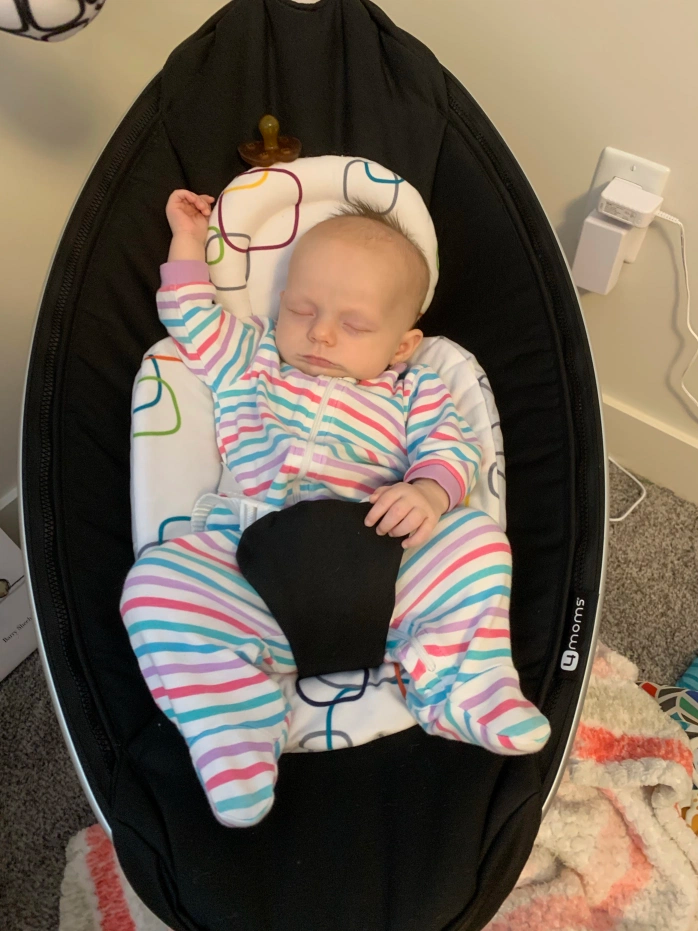 Seedlings Diaper Rash Cream
We spent a week in the hospital with five of those days in the NICU (Neonatal Intensive Care Unit) after Macy was born (once we have her whole birth story blog post written you will be able to read more about her stay and what happened). The nurses in the NICU used petroleum jelly on all of the babies' bums. What we hadn't anticipated was our baby being born sick and also that we wouldn't be coming home right away. Macy's diaper rash cream we had very carefully picked out to make sure we avoided using any toxins on her tiny vagina and bum was sitting on her change table at home in her nursery. Since there was no way we were leaving her side, we had to go without it and it really was a mistake.
Don't be like us. Do not forgot to bring your carefully selected Seedlings Diaper Rash Cream with you in your hospital bag! You can find out more about it by clicking here.
Fast forward and Macy's home living her best baby life now for weeks. While it hasn't been anything crazy, after all she is only 6 weeks old now, Macy has had a few red spots on her bum. I barely put a tiny bit on my finger and dab her bottom – and before the spot can become a rash, it's gone. Fast forward another couple of weeks now and Macy has had one diaper rash that her Seedlings Diaper Rash Cream cleared up overnight. It's efficacy is important to us as mamas and consumers – but what's especially important to me for my newborn is that I trust the plant based and clean ingredients list that makes up what I'm putting onto her most sensitive parts of her body. There are no hidden umbrella terms, like "fragrance", what you see is what you get with this product and that's why we have chosen this entire line only for our baby. And you can, too.
Seedlings Diaper Rash Cream, to share a few important points, is:
Dermatologist tested and hypoallergenic

Vegetarian friendly

Formulated without lanolin, parabens, phthalates, petrochemicals, synthetic preservatives, synthetic fragrances, or synthetic colorants
Bonus, we have been using a single tube since she was born and ten weeks later we still have plenty left!
Set up your free account and buy your Seedlings Diaper Rash Cream, or any of the other awesome Seedlings Baby products at 24% off head over to our team page.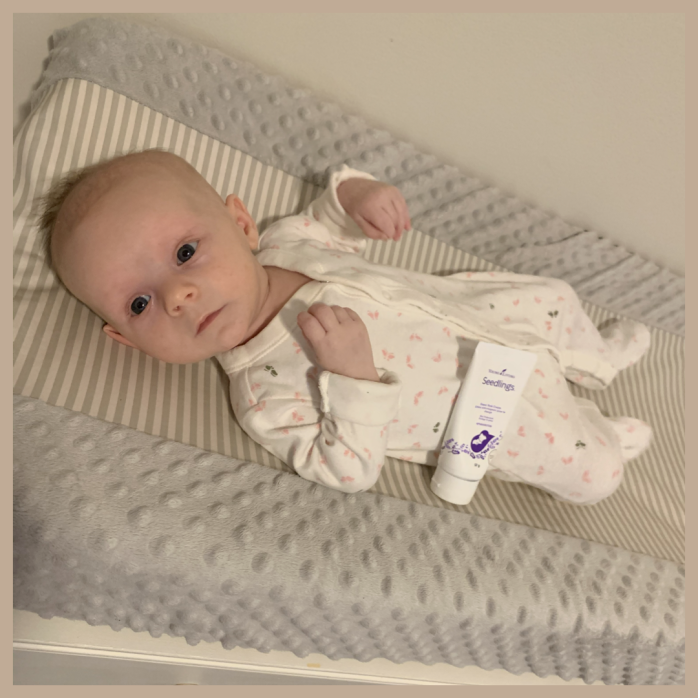 Haakaa
A dear friend of ours came to visit us while I was still pregnant with Macy and her little one was about 3 months old at the time. Being the breastfeeding friendly home we are, she very openly fed her babe and showed us, eager-beaver-parents-to-be, all about this incredible invention called the Haakaa! Basically, you attach a 100% silicone cup to the boob you aren't currently breastfeeding with while your baby nurses on the other. You squeeze the middle of the Haakaa as you press it over your nipple and allow the suction to slowly pull milk from you while your baby feeds away.
Having a supply of breastmilk on hand for daddy bonding time or for a lunch date out with friends or after a few glasses of wine – that's a priceless thing. The Haakaa makes it simple and you avoid completely drenching that breastpad in your bra. Bonus!
I bought my Haakaa from well.ca here.
Prince Lionheart wipes warmer
I remember the first time I saw a wipe warmer and thought, "this is genius! Why wouldn't I want to wipe by baby's bum with a warm wipe instead of shocking her with a freezing cold one?"
Have you ever freshened up with a cold wipe? Armpit? Or even just your face? It sucks! Imagine being a brand new infant fresh from the womb without ever having even been touched before and now you're being wiped with something so uncomfortably cold? That was a no brainer for us, we bought the Prince Lionheart wipes warmer immediately.
Now that Macy is here her change table is one of her favourite places. She has so much fun, kicks her feet like crazy. As soon as we lay her down she coos and laughs at he daddy and I. Sometimes this can be a be a place where babies are upset and we think this could be one of the reasons Macy associates her diaper change time as a happy time. We have only ever used wipes we've put in her wipes warmer and she's been exactly as we'd hoped. Comfortable.
You can find a Prince Lionheart Wipes Warmer almost anywhere, head over to their website for more information! Their slogan aligns so perfectly with our mission for our newborn and yours, "Cold isn't comfy". We want our newborns to be as comfortable and happy as possible, and this is a product these two parents believe help to make their teensy lives just a little bit easier. I bet that's something you can agree you want for your little, too.
Feather the Owl Diffuser, Nightlight & Noise Machine
When we were on the market for a noise machine we didn't really know where to look – there are so many and none of them had more than one function or feature, it seemed. A lot of the toys looked tacky and we didn't really want that for our daughter's bedroom, either. We didn't want it to look like a "baby's" room. You know? We wanted furniture, blankets and decor to all have a little more longevity so she could enjoy her room for years down the line. We were also on the market for a night light that wasn't too bright and a humidifier/cool mist diffuser. Voila, we are in Utah at the Young Living International Grand Convention last year and what do they release as a part of their brand new product line but the perfect combination of all three. Not tacky, not overly 'baby' and everything we wanted for less than we could have imagined spending on such a handy and very cute device. Feather the Owl diffuser also comes with Young Living's Lavender essential oil, which is Health Canada Approved as a Natural Health Product.
Young Living's Lavender essential oil in Aromatherpy can be used topically:
to help relieve joint or muscle pain associated with sprains, strains & rheumatoid arthritis

or inhaled can act as a nervine and calmative which enhances relaxation

or inhaled to reduce the symptoms of cold & cough

when experiencing digestive discomfort can act as a carminative and antispasmodic

to help relieve headache
There isn't a better priced sound machine out there with all of the features this one has! Macy will use her Feather The Owl diffuser for many years, too!
Feather The Owl's little claws turn on the diffuser with just a tiny tap of your child's finger and also change the colour of its belly from white to red, green, orange, yellow, blue, purple and pink before finally turning the light off completely. This feature is just enough light to function perfectly as a child's night light for their room. You simply tap the middle claw on either owl foot, the right for colour preference and the left to turn on (and off) the diffuser portion.
That's only two of the three most amazing features!
The noise machine portion, which makes the third and final feature, has two buttons at the back of the owl, one to turn on the noise machine function and also rotate through the sounds and one beautifully melodic songs and a second button to increase the volume.
Again, you can not beat the price of this all in one adorable kid's diffuser, nightlight and noise machine PLUS it comes with a free bottle of lavender essential oil – you can not go wrong!
Check out the rest of the details about Feather The Owl Diffuser on our team page. Purchasing one of your own at a 24% discount is super easy and accounts, just like setting one up with amazon, are free and super simple. We couldn't recommend a product without using it first and we're so impressed Colin wants to purchase a second one so we can keep the one we already have going in our bedroom once Macy moves into her crib in her own room. Ha!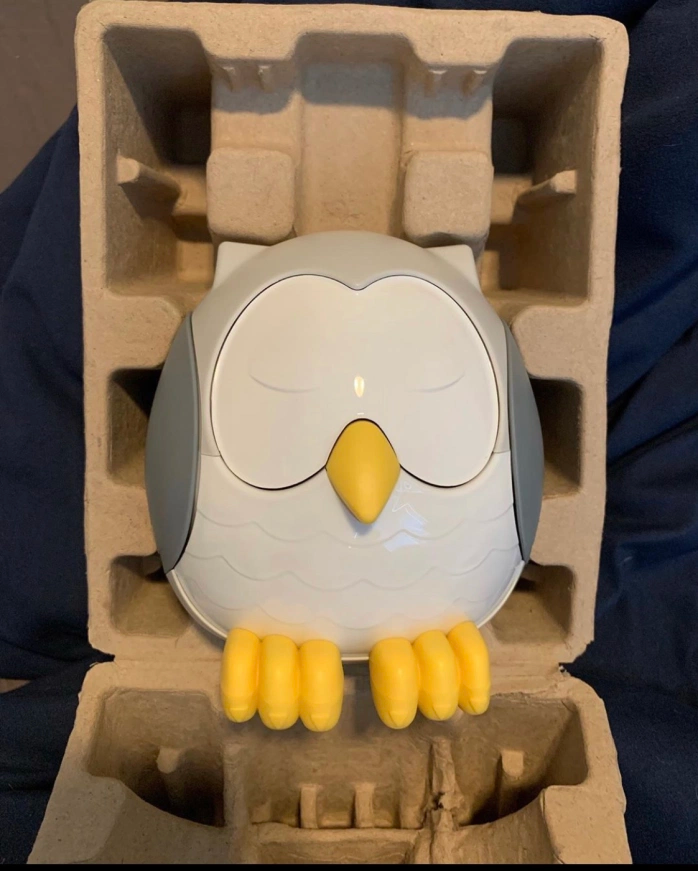 Cuddly Wrap
Hashtag #babywearing is the best! I have to admit, both Colin and I took to baby wearing a bit later than I thought we would. Maybe we were nervous? Macy still hates her actual carriers (Tula and Baby Bjorn) but mostly because she is a tiny girl and just doesn't fit into them yet. However, her Cuddly Wrap is a stretchy wrap you tie snug around your body in different ways depending on how you want to carry your baby. Well, ours was gifted to us and meant for the colder months so it's a nice and thicker fabric. Macy might have been just over a month old when I first tried baby wearing and while she fought it for a few minutes, Macy quickly fell asleep and I realized how much more efficient I could be with my nap hours in the day.
That being said, we were given a kangaroo baby wearing contraption during our NICU stay so Macy and I could sleep together in the recliner in our tiny (and shared) suite. It was the only way our nurses felt comfortable with Macy sleeping in my arms while I also slept – and I so appreciated it. Macy loved it then but we both outgrew it quickly. She didn't love being as confined as the kangaroo made her feel so the Cuddly Wrap really did give us a little more wiggle room for her and I both to be comfortable.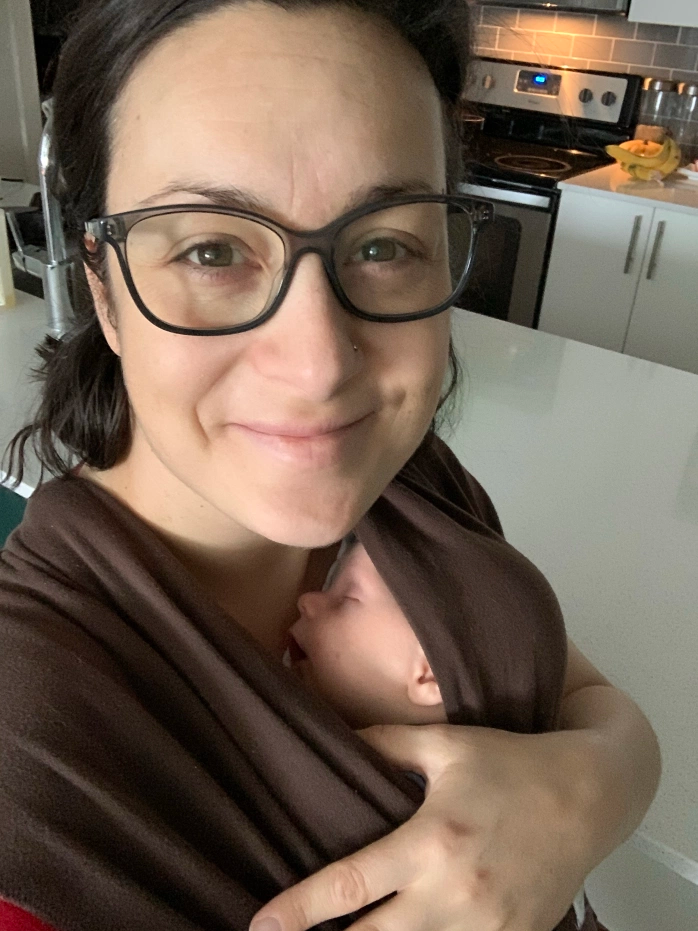 Hevea Pacifier
It's been many years Colin and I have put into researching the products we have in our homes. When we found out we were pregnant with Macy and having a pacifier for her I have to admit, I was really intimidated. How could anything on the market be safe enough for our child to quite literally have in her mouth for hours a day? Plastic was everywhere. Then we stumbled across Hevea and not only do they have amazing pacifiers but also teethers and toys. The natural rubber comes from a tree species called Hevea brasiliensis – how cool is that?!
Macy loves her pacifier and it came as such a relief to all three of us when she found it very comforting during her poor NICU stay and many hundreds of IV and needle pokes. These poor mama and daddy hearts couldn't hardly get through those days but knowing she could rest just a little better with her Hevea pacifier made us feel just a little better. All these weeks later, she still finds great comfort in her paci.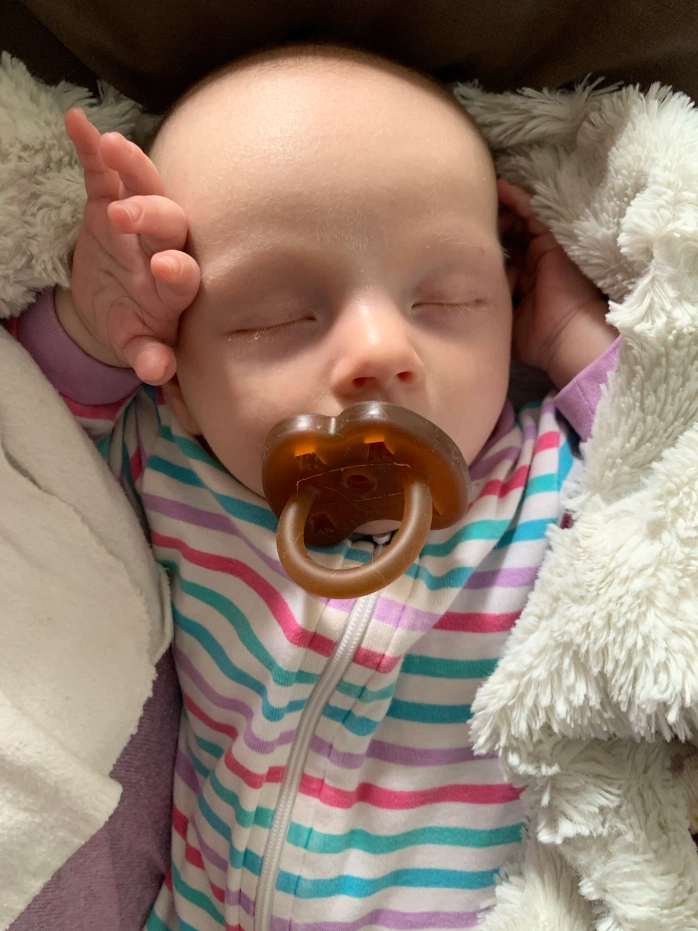 Seedlings Baby Wash and Shampoo
At the end of the day if a product line is owned by a company that produces chemical laden products I can not trust their brand to be safe for my baby. The ever popular baby brands claim all sorts of things and we are quick to trust them at their word because our parents used the same brand and brand recognition is what keeps these companies alive. Except mamas and daddies are really starting to wake up to the honest truth. Not everything you see on your grocers shelves are safe for you.
What you put on your body is absorbed into your skin and bloodstream to be processed by your cells in the same way the food you put in your mouth is. When your body doesn't recognize synthetic or dangerous chemicals, it doesn't know what to do so it stores them in weird places. Traces get left behind in your body's attempt to keep you safe but consistent exposure and accumulation of those chemicals cause harm to our bodies. There are only so many weird places to hide things before it makes you sick.
That main brand we think of when it comes to gentle baby washes is owned by companies that manufacture known carcinogenic chemical laden and harsh cleaners. That brand's baby wash contains some pretty yucky stuff and in fact, their baby powder was just recalled for being very dangerous to babies. That is enough for me to skip right past the brand altogether, and to hope you will, too.
It's time to move on, parents. We are able to make smarter decisions now because we know better. We didn't know better before but now we can make sure our babies are not being exposed to unnecessary ingredients that can make them sick. We don't have to use those harsh chemicals.
In our home we trust Seedlings Baby products because they are vegetarian, synthetic free, toxin free and oh so gentle. Our newborn has been using this brand since she was born and there won't be another line in her rub a dub tub or her bloodstream.
Check it out here and if you have questions, you're welcome to email us any time!


Baby bathtub
Ok, when we first became pregnant any time I saw a baby whale I just melted. I think we both thought we were having a little boy and little boy décor is hard. (Choosing baby boy names is also insanely hard!) Instead of the nursery, I took up baby whales for items in the bathroom (with the exception of the adorable baby whale night light and stuffed animal gifts from a few great friends!). We have the cutest wash cloths and then, you guessed it, Facebook Marketplace popped up with an ad just down the street from where we live in West Kelowna, BC. Our baby's whale tub cost us a whopping $5 and she absolutely loves it! There's a small partition in the middle that helps to keep her sitting semi upright and a little cushion for a headrest. Again – reuse and recycle. Once Macy grows out of it, likely in the next few weeks, we'll do exactly the same.
We actually had a few friends tell us not to bother with a tub because they grow out of them so quickly but for $5 we really couldn't go wrong. Now that Macy is 10 weeks old we have to say, even at $25 it would have been a wise investment. It was important to us that our babe love being in the water and having a baby bathtub has helped us to show Macy how fun bath time can be! She also really loves that this is her special time with daddy (and sometimes mama comes to play, too!).


Breast Friend Pillow
Preferences may vary depending on the person and circumstances around your birth. It really didn't ever occur to me that we would need to have a c section which actually made me regret buying this pillow in the beginning. I couldn't put any pressure on my belly at all even when Macy was tiny and just born. It wasn't until more than a month postpartum that I was able to try using the Breast Friend pillow with her for the first time and it made such a difference. I immediately felt terrible for having to try and find comfortable ways for her to lay down while I attempted to get her close enough to me. Breastfeeding is a challenge!
One of Colin's friends reached out to him when we were first pregnant and said something that truly hit home when he said it and again when Macy was first born. He said, "breastfeeding is like two people learning how to ride a bicycle at the same time". Neither of us knew what we were doing or how to help the other one out. When your baby is so tiny, you've had major surgery and you end up in the NICU (more on our full birth story coming soon) it's even more stressful because nurses are on you 24/7 to watch you feed, show you better techniques, count your ounces, weigh your baby's diaper, poke your baby's heel for blood samples to test sugar levels and I remember all I wanted to do was cry because I didn't know how to hold my daughter right with all of these wires and IV's attached to her.
The first time I felt calm feeding her was that very first time this pillow didn't hurt me. I can't even remember if she was actually hungry and cuing for food, I just remember trying the pillow and it being comfortable so I picked Macy up and laid her down on it. She latched immediately and her body felt loose and cozy. Different. I felt relieved.
And you know what? This was another one of those Facebook Marketplace finds! I think I spent $10 or $15 recycling it from another mama who wasn't using hers anymore.
Keeping Your Newborn Comfortable
It is challenging as you are transitioning from prenatal to postpartum. Mamas and daddies, it's ok to not be ok, but if we can help it you won't be completely unprepared! Learning the cues from your darling, sweet baby just for feeds, changes, snuggles and sleep is enough for new parents, so hopefully by creating this blog and sharing some of our huge wins with our own darling, sweet baby you feel supported and better prepared. Thank you for reading all the way through and if we've offered advice you really appreciate, we'd love to know. Is there something not on our list you think we should know about? Send us an email! Or maybe you just love being a parent and you need to tell us all about it? Ya, fire that off to us, too!
And if you love our blog and want more bite sized updates:
Follow us on Instagram!
With Purpose,
T&C