Jul 14, 2020 09:54 PM Central
Tonia & Colin McArthur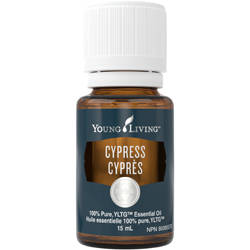 Young Living Canada's Cypress Essential Oil
Let's jump back into the swing of things with our next set of Health Canada Approved Young Living essential oils! Cypress is one of our newly approved Natural Health Products which comes in a 15ml bottle and is available for purchase at the wholesale membership cost of $23.75 + tax and shipping. Each 15ml bottle contains an estimated 250 drops, each with a potent amount of benefits to you and your family. It has a beautiful aroma that is grounding and welcoming in any environment and if you're interested in natural and alternative remedies, this might be an important addition to your medicine cabinet.
What is Young Living's Cypress Essential Oil Health Canada Approved as an NHP for?
Remember, be your own best advocate when it comes to the products you use in your home. www.ylsearch.com is a great resource that we like to use.
For additional product information and details, refer to the Canadian Young Living Product Guide.
To purchase your choice of Natural Health product, please follow our website to the top and select "Place an Order" which will direct you to our member shign up page. Memberships are free without any obligation to purchase and you automatically receive 24% off your choice of Young Living products! If you have any questions, feel free to send us an email and we would be happy to answer them!
Ready to try? Click here to receive a 24% discount with your wholesale membership for any of Young Livings Products including Cypress!
Select Young Living Oils By Natural Health Product Claims
---
---
---
Did you liked this article and would like to subscribe to our blog for Young Living Professionals?