Oct 14, 2020 05:38 PM Central
Tonia & Colin McArthur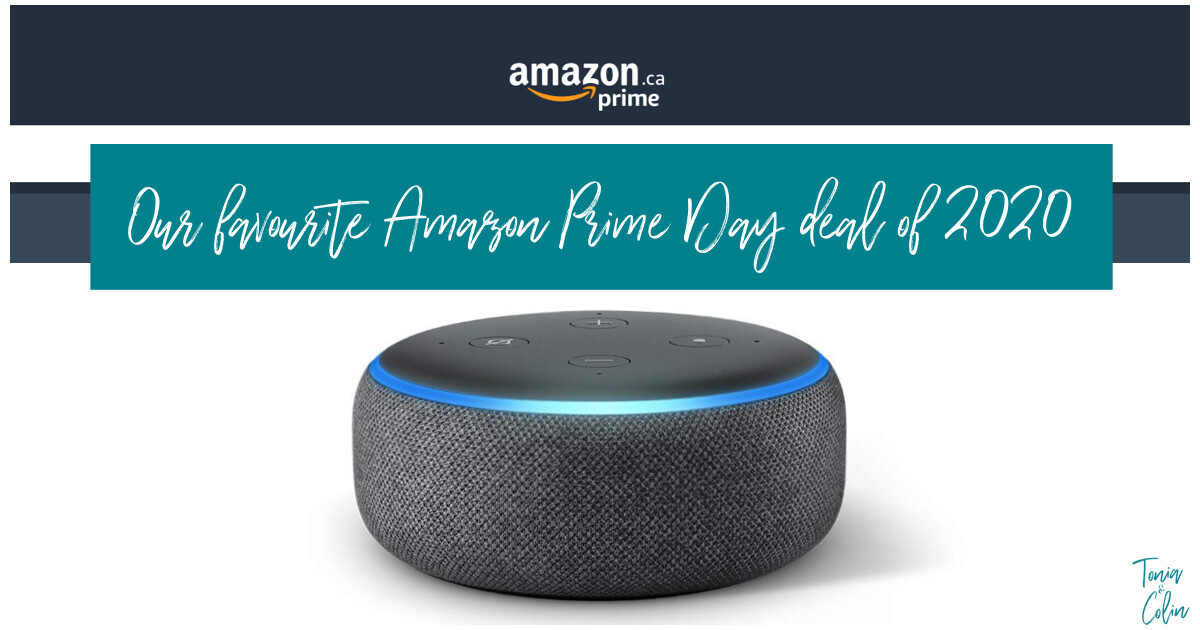 —-> —->
Some of the links in this article are affiliate links. Help support our family by purchasing products you need through the links from this page. If you buy something based on our recommendation, we might earn a small commission for referring you.
Colin and I have been Amazon Prime members now off and on for over a year and honestly - we love it. I am personally the kind of person who hits "purchase" and immediately wants to see a confirmation email followed directly by a tracking number. It is apparently PRIME DAYS and there are some pretty incredible deals October 12th and 14th - check out all of those deals here —->
https://amzn.to/2IlSUpm
Last month Colin and I bought an Echo Plus 2nd Gen from Amazon (deals for this guy ended a while ago so check way down at the end of this blog for the
3rd gen dots
!), which we got on sale through Amazon Prime (Prime is free for the first month, and so of course we were jumping on that to get our 'Alexa' for half price. Crazy since we had just looked a month before and it was $199. We wanted one for the lake next summer to be able to play music while hanging outside. Fumbling around with our phones is not something we want to have to worry about and the convenience of an Echo - wow! What a difference. We linked our Spotify account and now with a super simple command she plays amazon music or Spotify in a second flat.
Amazon also emails you mini updates about your Alexa and how to communicate with her or explore other features. Here are a few of our favourites so far:
Being able to check the weather just simply by asking Alexa is so convenient.
Speaking of convenience, setting a timer for this baker - incredible!
Song Quiz is any Name-That-Tune fanatic's game - play with your friends or play online and have Alexa match an opponent for you
Akinator - basically this is an extension of the game 20 questions but about characters, any character you can dream up, Alexa will try and guess who you're thinking of. So. Much. Fun.
Ask, "Alexa, announce dinner is ready!" But make sure you say "dinner is ready" very animated - it records your own voice in the announcement after she rings a dinner bell. Hilarious.
This is such a fun buy but also incredible if you're looking for some extra convenience and fun in your life, this is worth every penny. This sale is unreal for Prime members.
The little Echo Dots are $24.99 so you could have a few in your home if you want one in the bathroom (who doesn't love singing in the shower?) or another in your basement. You can't beat that price and these things are incredible. Our only regret is we wished we had bought them sooner. Our 10 month old daughter thinks it's wild that this little thing talks to us. She can't quite pronounce her name correctly but she randomly shouts out "adaaaata!" and outstretches her arm towards the kitchen counter. Hilarious, guys.

When she's feeling playful we say, "Alexa, Simon Says hi Macy you are looking so beautiful today" or "Alexa, Simon Says, Macy we are having pancakes for breakfast, come on over to the kitchen!" and when Alexa repeats Macy's eyes just light right up. So fun.

I typically use our Echo Plus for setting timers when I'm baking and when the alarm goes off Macy is quick too get my attention because she knows COOKIES are coming!!
You won't regret these purchases, I know we don't. And right now you can get them even cheaper than we did but hurry because the sale end today!!

Happy Shopping!
With Purpose,
Tonia