Jul 14, 2020 09:55 PM Central
Tonia & Colin McArthur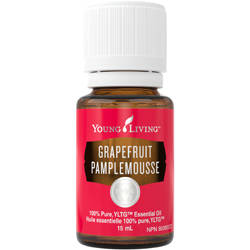 Young Living Canada - Grapefruit
Hello, Grapefruit! What a lovely, uplifting scent. This essential oil is cold pressed from the fresh fruit peel of grapefruits grown in the US. We have found many ways to use our grapefruit essential oil in our daily routines and we enjoy diffusing it throughout the mornings as well. Citrus essential oils are crisp and clean smelling which is really inviting and by adding a few drops to your diffuser at home creates a delightlful aroma. It makes perfect sense that Young Living's Grapefruit essential oil is now considered a Natural health Product (NHP)
What is Young Living's Grapefruit Essential Oil Health Canada Approved as an NHP for?
Remember, be your own best advocate when it comes to the products you use in your home. www.ylsearch.com is a great resource that we like to use.
For additional product information and details, refer to the Canadian Young Living Product Guide.
We feel extremely lucky to be able to feature essential oils such as Grapefruit as Health Canada Approved Natural Health Products to use as alternatives in your homes with your family! With 250 drops in each 15ml bottle of therapeutic grade essential oil, not only are you afforded a safe, non-toxic and natural remedy, you are also saving money! Purchase a bottle of Grapefruit from Young Living for $20.75 with a free wholesale membership or $27.30 retail. Members on Essential Rewards receive points back (up to 20% of their monthly orders) and can also purchase Grapefruit with 16.75PV points! Ask us for more information about how you can earn products for free as well!
Ready to try? Click here to receive a 24% discount with your wholesale membership for any of Young Livings Products including Grapefruit!
Select Young Living Oils By Natural Health Product Claims
---
---
Did you liked this article and would like to subscribe to our blog for Young Living Professionals?