Jul 14, 2020 09:59 PM Central
Tonia & Colin McArthur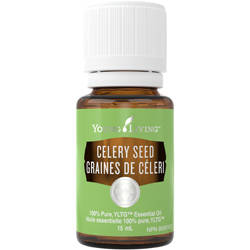 Young Living Canada's Celery Seed Essential Oil
Who would have thought that there would be aromatic and topical beneficial properties to celery seed essential oil? It might sound a bit strange, but it certainly is true. So true, in fact, that Health Canada has approved Young Living's Celery Seed essential oil as a Natural Health Product and for two very important reasons.
Remember, be your own best advocate when it comes to the products you use in your home. www.ylsearch.com is a great resource that we like to use.
For additional product information and details, refer to the Canadian Young Living Product Guide.
We love to use essential oils for more than just beautiful smelling aromas in our diffusers at home. Imagine being in a stressful situation or feeling uptight and simply opening your bottle of Celery Seed essential oil from Young Living to calm your nerves. Or maybe diffusing Celery seed to help you sleep at night? You could also apply a few drops to an aromatherapy inhaler to have quick access with you on the go so as not to carry your whole bottle around with you. It might also be of benefit to put some of Young Living's Celery Seed essential oil into a roller bottle with a carrier oil and have a natural remedy ready to go in case of a sore muscle or joint. Its a great essential oil for pain management,
With options that are natural and holistic, we feel so comfortable applying a serum of essential oil and coconut oil (or other carrier oil of your choice) to sprained ankles or a strained hamstring instead of leading muscle rubs with a long list of ingredients we might not understand. Each application only requires a single drop of essential oils because they are potent, concentrated substances, which means a bottle celery seed can last up to 250 uses! That's right, every 15ml bottle of Celery Seed has 250 drops inside and for only $32.75 with a wholesale membership, and that's a bargain! Where else can you find holistic and natural relief from aches and pains at $0.13 per application?
source: Facebook
Wholesale memberships are absolutely free and Young Living ships right to your door! Are you ready to add pure essential oils to your family's health and wellness routine? Scroll to the top of our website and click, "Place An Order" or send us a message to set up your account. Get started with your oily journey today.
Ready to try? Click here to receive a 24% discount with your wholesale membership for any of Young Livings Products including Celery Seed!
Select Young Living Oils By Natural Health Product Claims
---
---
Did you liked this article and would like to subscribe to our blog for Young Living Professionals?