Aug 29, 2016 03:04 PM Central
Tonia & Colin McArthur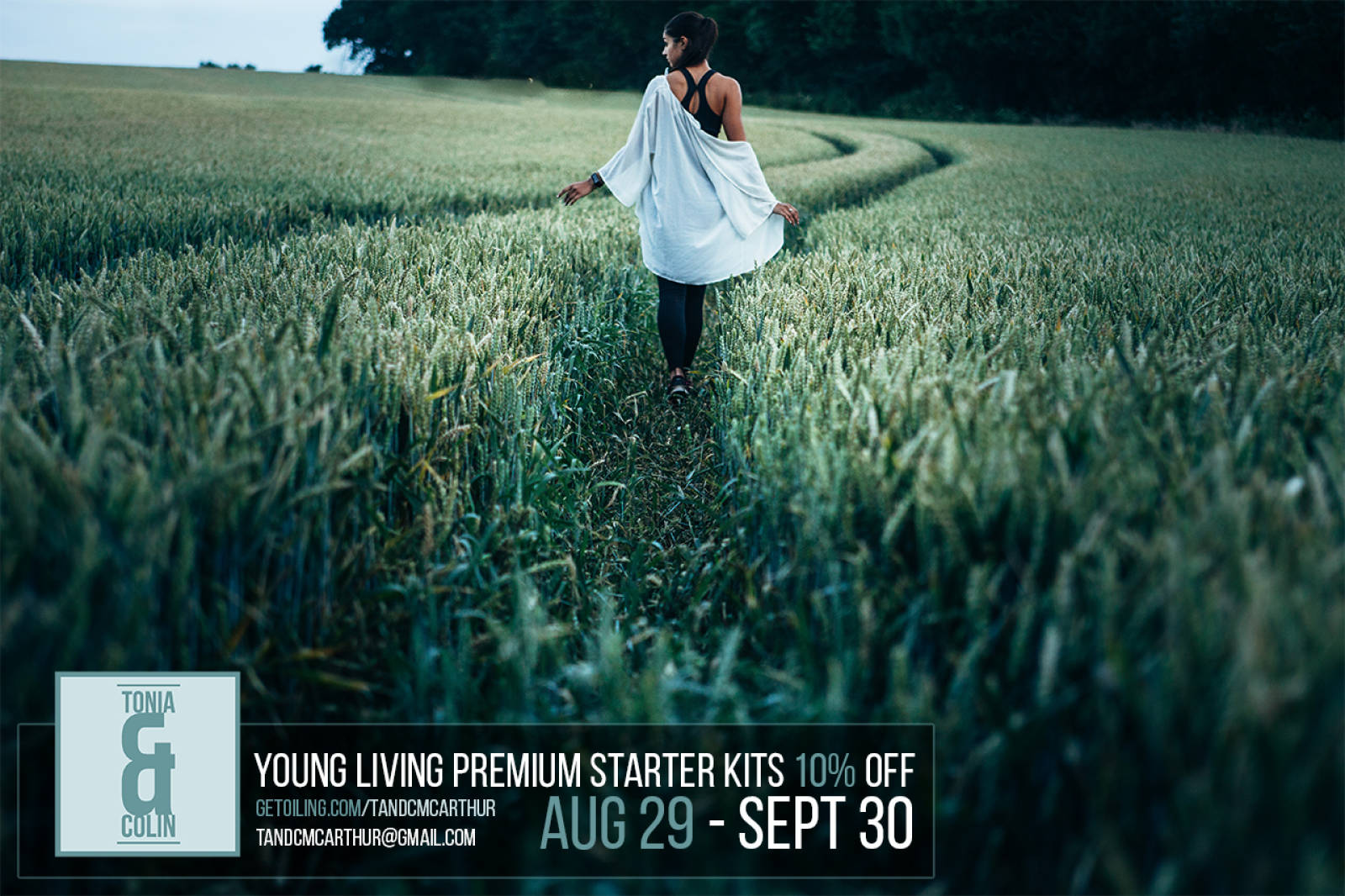 If you've been following us for a while now, you know how highly we value our company and their products! Our health and wellness journey looked a little meek prior to implementing this routine into our daily activities.
So what has changed? Everyone can relate to wavering sleeping patterns, right? We have a hard time sleeping when we're experiencing either physical or emotional pain. Are you stressed? Do you have store muscles or joints that are keeping you up?
Calmatives and nervines
not only calm your body down physically which can also be referred to as nerve tranquilizers, but also your mind as a result. Doesn't that sound dreamy? Consider that if your nervous system is calm then so is everything else connected to those auto-responses. Your stress levels are directly related to your nervous system's reactions to the atmosphere and energy you're in at that time.
If you're diffusing Young Living's Health Canada Approved Natural Health Products for stress you can pick from the following:
* Angelica
* Basil
* Laurus Nobilis
* Lavender
* Marjoram
* Neroli
* Nutmeg
* Orange
* Patchouli
* Pine
* Rose
* Sage
* Spearmint
* Thyme
* Ylang Ylang
what you are actually accomplishing is a holistic balancing of your entire body.
Remember, be your own best advocate when it comes to the products you use in your home. www.ylsearch.com is a great resource that we like to use.
Let's talk about your body using this exact approach. So let's be even more specific about what this approach actually is because it's really quite simple. We're talking about living above the wellness line, or, preventative maintenance rather. We're giving our bodies the balance they seek out and in return they function more efficiently. Imagine that!
Health and wellness is using natural products, healthy and whole foods, coupled with exercise to nourish and replenish your body and mind. We all want to live our lives to the best of our abilities. For us, the implementation of the best quality essential oils we could find was one of the best decisions we've ever made for our overall health. Our cleaning products were making us very sick. The food we were eating left us in a constant state of bloat and fatigue because we just didn't know any better. Emotionally, we were completely unbalanced, causing harm to ourselves, each other and the people around us. After a year of really digging deep into how we can incorporate our Young Living essential oils, we are free from so many barriers we didn't even know we'd put up. We're sleeping better, we're stronger physically and emotionally, our thoughts are much more clear and we both feel like we have our lives back. In fact, Colin says that we are the best we've ever been.
In this video, Tonia breaks apart what is included with Young Living's Premium Starter Kit
It has been a year of experimenting. Essential oils were a small portion of our lives for years and it turns out that they're one of the most important aspects of it now. The morning routine in the McArthur household includes essential oils. The afternoon routine includes essential oils. The bed time routine includes essential oils. It's hard to imagine that this journey we're on now all started one year ago with our purchase of a Young Living Premium Starter Kit which has evolved into the most important tool kit we have. After a year of putting in the time to experiment and really make note of the changes so we can share them properly, we're exactly where we started. Why? Because you wouldn't believe us if we told you, so you're just going to have to trust us and take a leap of faith.
From now until September 30th your purchase of the Premium Starter Kit in Canada is 10% off. Save yourself the $20 and earn your health and wellness back. Click on "Place An Order" to get started today.
Additional Resources:
@tandcmcarthur | Facebook | Instagram | Pinterest | LinkedIn