Jul 15, 2020 09:38 PM Central
Tonia & Colin McArthur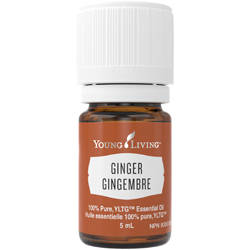 YOUNG LIVING GINGER ESSENTIAL OIL
So we have to share a funny story. Colin loves Ginger! He pretty much drinks Ginger tea by the jug. So needless to say he was excited to try this oil the first time we got it. However we didn't realize how potent this oil would be and the first time we diffused it we had to shut off our
dew drop diffuser
pretty much right away.
We quickly learned that for us this oil was going to be meant for topical use and not for diffusing. We all know that Ginger Root is amazing for digestive support so it makes sense that this oil would also be for the same. Did you know that it is one of the oils present in Young Living's DiGize Essential Oil?
Its so helpful for digestion that even Jorja, our 13 year old Beagle instinctively knows to choose it when she has an upset stomach. Don't believe us? Check this video out!
Cant see the video? Click
HERE
to check it out on our Tonia and Colin Facebook Page
What is Young Living's Ginger Essential Oil Health Canada Approved as an NHP for?
Remember, be your own best advocate when it comes to the products you use in your home. www.ylsearch.com is a great resource that we like to use.
For additional product information and details, refer to the Canadian Young Living Product Guide.
Don't forget to visit our social media pages where we have lots of great DIY recipes, information on essential oils, videos and information about our lives as Young Living Independent Distributors
Select Young Living Oils By Natural Health Product Claims
---
---
Did you liked this article and would like to subscribe to our blog for Young Living Professionals?