Oct 16, 2016 07:37 PM Central
Tonia & Colin McArthur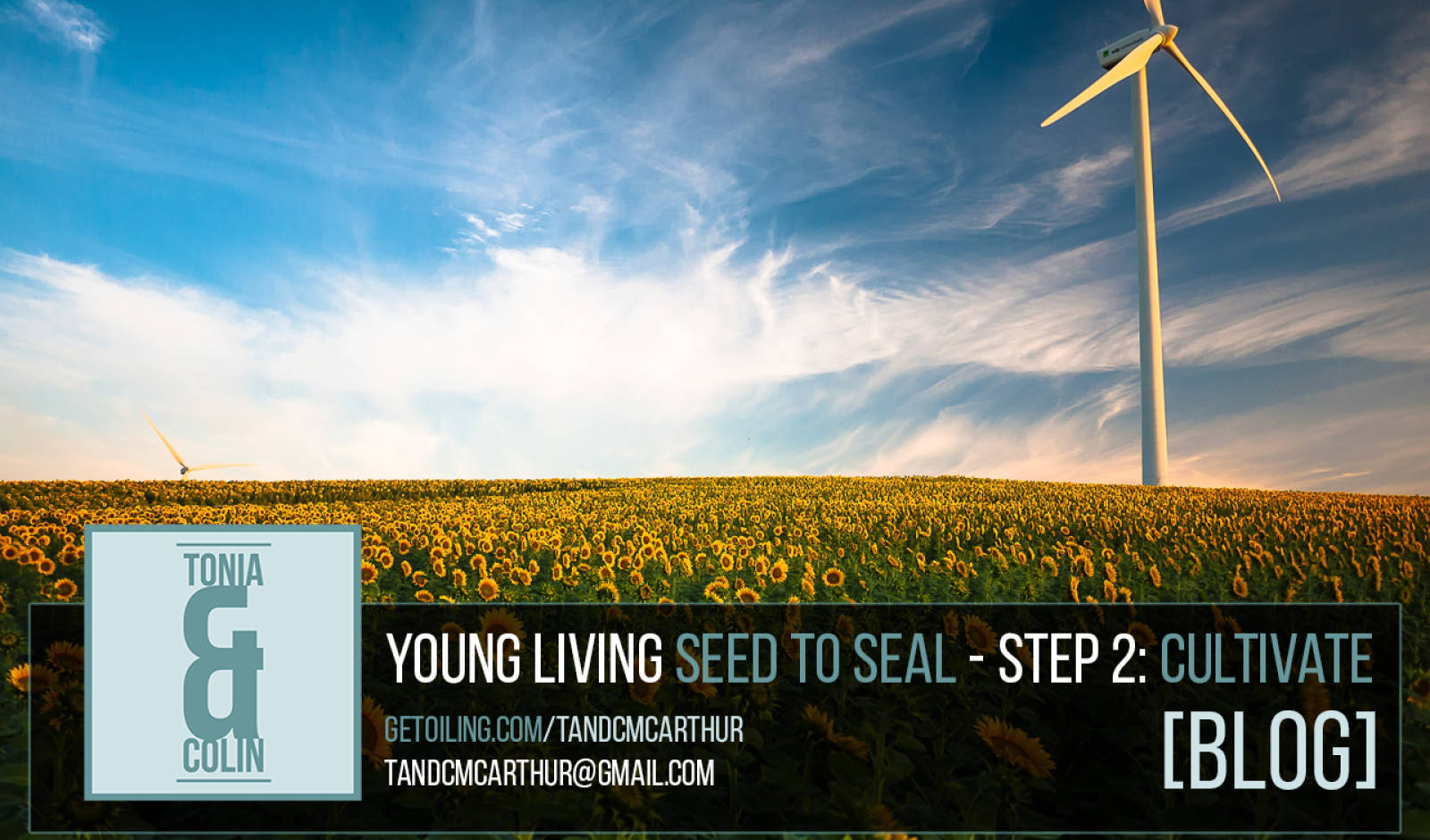 Step 2: Cultivate
By maintaining the Seed to Seal standards, Young Living ensures the highest quality essential oils, controlling and documenting the health of the soil through proper composting, natural fertilizers, crop rotation, and the amount of water through rain and/or irrigation, as well as considering daily sun and temperatures. Young Living tracks the country of origin and the species for every essential oil as part of the Seed to Seal process. No other essential oil company does or can do this for the simple fact is that they do not own their own farms and therefore cannot guarantee proper farming practices.
Young Living's Seed to Seal
This is a 5 part series where we will spend some time examining Young Living Essential Oil's Seed to Seal process. Seed to Seal is the process that controls the production of every essential oil from the farm to the labeled bottle ready to be sold.
The 5 steps in the Seed to Seal process are:
The Young Living Seed to Seal process ensures the highest quality possible of every essential oil poured into the bottle at the production facility, thus providing their members with the confidence that they are buying the very best essential oils available.
Step 2: Cultivate
Good cultivation practices are critical for all essential oil-bearing plants that are grown for the extraction of Young Living Essential Oils. Individuals gathering wildcrafted plants are expected to be eco-responsible for same-species collection. The resulting essential oil will be rejected if it does not pass the rigorous scientific testing in the laboratory - Young Living Essential Oils

Composting increases nitrogen, a very beneficial element in organic farming, which is practiced on Young Living farms worldwide. Discarded food scraps such as banada peels, cocnut husks, and skin peeled from mangoes, papaya, apples etc., are added to clover and alfalfa to begin fermentation. When all of this is mixed with manure and the liquid worm castings, we have an excellent fertilizer that provides a high source of nitrogen to feed the plants.
Weed and pest control are always major challenges in organic farming. Gary Young has developed a natural herbicide made with essential oils, Neem oil, and Castile oil.
His pest control spray is a combination of:
* Cinnamon
* Palo Santo
* Basil
* Idaho Tansy
* Pine
* Citronellal
* Neem oil as a carrier oil
Their efficacy is quite remarkable. It has been very interesting to watch how the different plants respond in a positive way to the essential oil spray.
Weed and pest control sprays made with essential oils can dramatically improve the organic environement of the plants. Soil sprayed certain essential oils has been shown to digest unwanted chemicals in the soil as well. Naturally, it is much more expensive, but the result is well worth it.
Weeds can be a farmer's worst enemy and one of the biggest challenges when growing organically. For that reason it is important to control the weeds through cultivation early on as the plants develop.
Summer fallowing cuts the weed growth and prepares the ground for planting.
Planting cover crops such as beans, corn, triticale, clover, etc., help choke out the weeds and add more nutrients when it is plowed into the soil.
Rotating the crops is always beneficial and adds different nutrients to the soil.
Some aromatic crops like chamomile and clary sage grow so close together that they choke out weeds.

Young Living practices organic farming methods and demands the same from all partner and coopertive farms. The Young Living farm in Ecuador is very rural and far from any industrial and city pollution. The air is fresh and uncontaminated, which lends itself very well for organic practies and certification.
In 2013 the Young Living Edcuador Farm received organic certification from the plants, raw farmland not yet planted, and for out cacao from CERES, which is a German organization accredited by the U.S. Department of Agriculture, comparable to USDA Organic certification.
Ready to try? Click here to receive a 24% discount with your wholesale membership for any of Young Living's Products!
Did you liked this article and would like to subscribe to our blog for Young Living Professionals?