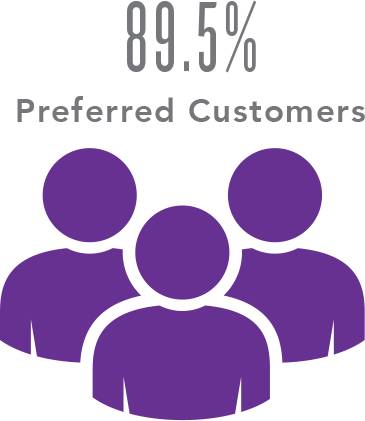 Of the millions of members dedicated to Young Living, 89.5% are Preferred Customers—Young Living members who have never enrolled someone else but purchase product and enjoy member benefits. Preferred Customers join to enjoy Young Living products and wellness solutions. While our expanding line of more than 600 products offers limitless ways to gain greater physical wellness, the Young Living community offers members a way to discover wellness in every facet of life; and our Preferred Customers have access to these and other exclusive member benefits.
Young Living member benefits include:
• A 24% discount on our 600+ life-changing products, including over 220 essential oils and blends
• Access to an extensive library of essential oil and wellness product education, usage tips, and other valuable resources in our Virtual Office
• Ability to join our Essential Rewards loyalty subscription for convenient, monthly automatic shipments, shipping discounts, points to redeem toward future purchases, and more
• Communication about all things Young Living, including new product announcements, bi-monthly newsletters, event invitations, and much more
• Opportunity to earn an income through our compensation plan as a Business Builder
FUN FACT!
Preferred Customers enrolled in our
Essential Rewards loyalty program
received a retail value of more than $94.5 million in Essential Rewards points in 2017 to use toward future product purchases!