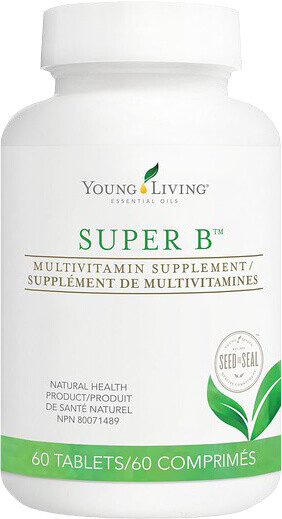 Super B is a comprehensive multi-vitamin/multi-mineral complex containing all eight essential, energy-boosting B vitamins (B1, B2, B3, B5, B6, B7, B9 and B12). Recently reformulated, it now features Orgen-FA®, a natural folate source derived from lemon peels and methylcobalamin, a more bioavailable source of B12.
Combined with Nutmeg essential oil and bioavailable chelated minerals such as magnesium, manganese, selenium, and zinc, Super B not only assists in maintaining healthy energy levels, but it also supports the normal function of the immune system, helps protect against oxidative stress caused by free radicals and much more.


B vitamins are essential to our health and well-being, and each B vitamin performs a unique and separate function in the body. They must be replenished daily, since they are not stored in the body.
Young Living Super B Tablets
Item No.
324003
Size
60 Tablets
Wholesale
$25.50
Retail
$33.55
PV
20.50